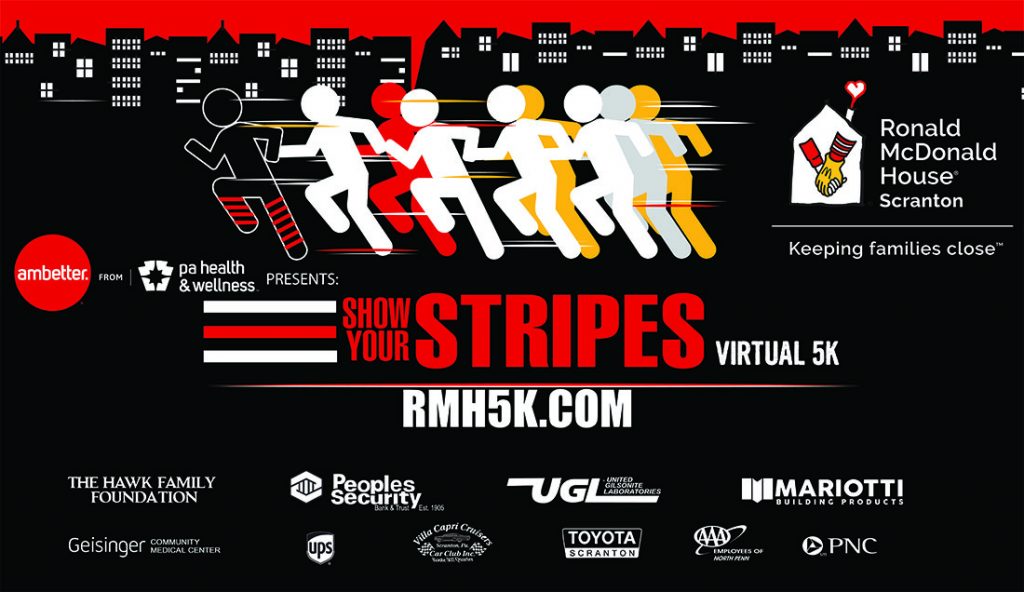 Register Here!
Join us as we run our 34th Annual Show Your Stripes 5K Virtually!
The Show Your Stripes 5K has gone virtual for 2020 but the swag is second to none! All participants will receive a custom neck gaiter, our newly designed striped socks that we are known for, as well as a Ronald McDonald House key chain, sunflower seeds, and a McDonald's coupon.
The 5K can be run any time between Wednesday, September 23 and Sunday, September 27. We are encouraging participants to find new and exciting routes to challenge you while completing the race. Or feel free to show us your favorite running location and run or walk when it is convenient for you.
Once you complete your run, enter your data on the race results and send proof of your race results in the form of a screenshot of GPS data used from running apps such as Garmin, Strava, MapMyRun, etc. The screenshot must show the elevation gain, time and distance for the participant to be eligible for prizes.
Gift cards will be awarded to the overall male and female as well as the top three male and female finishers in the following age groups: 19 & Under, 20 – 29, 30 – 39, 40 – 49, 50 – 59, 60 – 69, and 70 & over.
Your race package will be mailed directly to the address that you provide during registration.
Thank you for helping us keep families close!