Community Meeting Room
Community Meeting Room Available for Use by Outside Organizations
The RMH Community Meeting Room serves as the meeting space for the Ronald McDonald House of Scranton Board of Directors, Staff, Volunteers and is also made available to non-political outside groups. Priority is given to nonprofit organizations that focus on the well being of children. The Community Meeting Room is ideal for groups of up to 20 participants.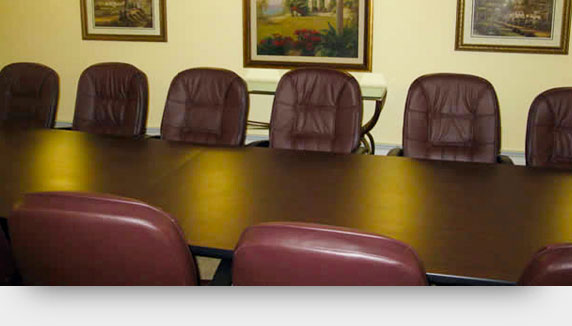 About the RMH Community Meeting Room
Our community meeting room includes a beautiful large board room table that seats 20 people in rolling padded chairs. Additional tables and chairs are available on request.
The room is equipped with a 64" roll down screen with overhead projection TV and wireless access available for presentations from an outside laptop. There is a small kitchen for food preparation inside the Community Meeting Room. We ask our guests to clean up after themselves and alcohol is prohibited in the Community Meeting Room.
We do not charge for the use of the Community Meeting Room. Any donations given will directly benefit the families that stay at the Ronald McDonald House. And, if your group would like to know more about donating the items we're always accepting, we would encourage you to view our wish list.
We ask that you schedule your meeting at least two weeks in advance to secure your spot.