Pop Tabs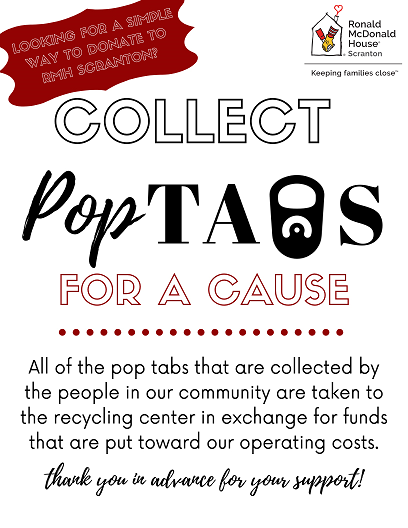 Collecting pop tabs is a great way to teach kids about philanthropy and the importance of recycling, and raise funds to help children and their families at the same time.
Start Collecting Today!
Read the Pop Tabs Information Sheet 


[Click here to download]

Post the Pulling for the House Flyer to share information with your community, office, or school.
Designate a clean container for collection and start pulling, popping, and twisting off your tabs!
Drop off at our Ronald McDonald Houses any day of the week or weekend from 9 a.m. to 9 p.m.
Keep collecting and bringing pop tabs to us for as long as there are pop tabs in the world!
In the Classroom
We encourage you to bring Pop Tab Collecting to your classroom as well.  Below, find a few ways to get your school started on "Pulling for the House!" 

Pop Tabs Information Sheet